Ordering Information
Custom Surfboards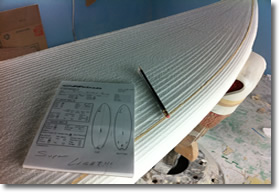 You can order your board directly online from our ONLINE STORE. There are more boards to choose from available there.
If you would like assistance with your custom order, our friendly and knowledgable staff is available to you, 9 a.m. to 5 p.m. (PST), 7 days a week. Call 310-922-0139 or email us: rolandsurf@gmail.com
After you place your board order, you'll receive a confirmation to verify that your order has been received and put into production. After that, the next time you hear from the factory is when your board is completed and ready to ship.
You can get an estimate time of your custom order sending ROLAND an e-mail. He will get back to you as soon as he can.
Order Form
Online Store
Custom Surfboards
All Kind of boards